Inclusion Of 'Kui' Language In The 8th Schedule: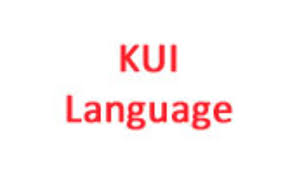 The Odisha Cabinet recently recommended a proposal for inclusion of 'Kui' language in the 8th Schedule of the Indian Constitution.
Kui Language also known as Kandh, Khondi, Khond, Khondo is a South-Eastern Dravidian language spoken by the Kandha community.
It is primarily spoken in the state of Odisha.
It is closely related to other languages in the Dravidian family, such as Gondi and Kuvi. It was also referred to as the Kuinga language during the historical period.
With 941,988 registered native speakers, it figures at rank 29 in the 1991 Indian census.
Kui is traditionally written using the Odia script, which is also used for writing the Odia language.
8th Schedule of the Indian Constitution:
It lists the official languages of India.
Although there are hundreds of languages spoken across the country, the eighth schedule recognises a total of 22 languages as the official languages.
The 22 languages now included in the eighth section of the Constitution are, Manipuri, Maithili, Kashmiri, Hindi, Kannada, Gujarati, Konkani, Malayalam, Assamese, Marathi, Nepali, Bengali, Punjabi, Sanskrit, Sindhi, Telugu, Tamil, Odia, Urdu, Bodo, Dogri, and Santhali.
Fourteen of these languages were originally listed in the Constitution. Sindhi was introduced in 1967, Konkani, Manipuri, and Nepali in 1992, and Santali, Dogri, Maithili, and Bodo by the 92nd Amendment Act of 2003.