Anti-Superstition Laws: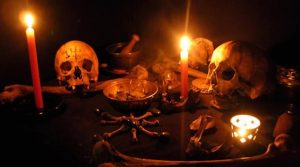 The recent killings of two women in Kerala have sparked a debate about the prevalence and power of superstitious beliefs in society.
As per the 2021 report of the National Crime Records Bureau (NCRB), six deaths were linked to human sacrifices, while witchcraft was the motive for 68 killings.
The maximum number of witchcraft cases were reported from Chhattisgarh (20), followed by Madhya Pradesh (18) and Telangana (11).
In 2020, India saw 88 deaths due to witchcraft and 11 died as part of 'human sacrifices', the NCRB report states.
In India, there is no central law that exclusively deals with crimes related to witchcraft, superstition, or occult-inspired activities.
In 2016, Prevention of Witch-Hunting Bill was introduced in the Lok Sabha, but it wasn't passed.
The draft provisions included punishment for accusing or identifying a woman as a witch, use of criminal force against a woman, or torture or humiliation on the pretext of performing witchcraft.
Section 302 (punishment for murder) of IPC (Indian Penal Code) takes cognisance of human sacrifice, but only after the murder is committed, likewise, Section 295A works to discourage such practices.
Article 51A (h) of the Indian Constitution makes it a fundamental duty for Indian citizens to develop the scientific temper, humanism and the spirit of inquiry and reform.
Other provisions under the Drugs and Magic Remedies Act, 1954 also aim to tackle the debilitating impact of various superstitious activities prevalent in India.