Malayalam: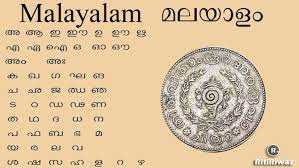 GIPMER, a Delhi government hospital banned its nursing staff from speaking in Malayalam in the hospital and warned of "serious action" if they do not talk in English or Hindi.
Malayalam is a Dravidian language spoken.
Malayalam has official language status in Kerala, Lakshadweep, and Puducherry (Mahé)
It is one of 22 scheduled languages of India and is spoken by 2.88% of Indians.
Due to Malayali expatriates in the Persian Gulf, Malayalam is also widely spoken in the Gulf countries.
Malayalam was designated a "Classical Language in India" in 2013.
The earliest script used to write Malayalam was the Vatteluttu script.
The current Malayalam script is based on the Vatteluttu script, which was extended with Grantha script letters to adopt Indo-Aryan loanwords.
It bears high similarity with the Tigalari script, a historical script that was used to write the Tulu language.