Maiden Navy Exercise: India-Algeria: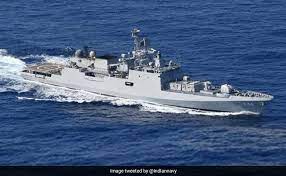 The Indian and Algerian navies participated in a maiden naval exercise off the Algerian coast in a bid to increase maritime cooperation.
The naval exercise with Algeria is crucial for India as it is strategically located in the Maghreb region (region of North Africa bordering the Mediterranean Sea) and is the largest country of Africa.
Indian Naval Ship (INS) Tabar took part in a Maritime Partnership Exercise with Algerian Navy ship 'Ezzadjer'.
INS Tabar, is a Talwar-class Stealth Frigate built for the Indian Navy in Russia.
India has been focussing on boosting defence and security ties with various African Nations in the last few years.
India and Africa – Maritime Security:
Integrated Maritime Strategy 2050 of the African Union: It consists of the overarching, concerted and coherent long-term multilayered plans of actions that will achieve the objectives of the AU (African Union) to enhance maritime viability for a prosperous Africa.
Maritime Domain Awareness: To monitor the activities in the Indian Ocean Region (IOR), Maritime Domain Awareness, a robust information sharing mechanism has been set up by India, and efforts have been made to encourage African participation in various multilateral frameworks in the IOR.
Indian Ocean Rim Association:

It is an Indian-led initiative that seeks to build and expand understanding and mutually beneficial cooperation through a consensus-based, evolutionary and non-intrusive approach.

Maritime Security Infrastructure: India has been gradually increasing its engagements with the navies in the African continent through frequent naval deployments and port visits. Also inclusive regional maritime security infrastructure has been set up which are strategically located and there are constant interactions at the operational level.