India – Sweden Virtual Summit: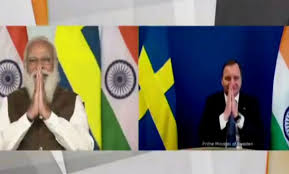 Prime Minister Narendra Modi and Prime Minister of Sweden H.E. Stefan Löfven held a Virtual Summit where they discussed bilateral issues and other regional and multilateral issues of mutual interest.
Prime Minister Modi recalled his 2018 visit to Sweden for the first India-Nordic Summit and the India visit of Their Majesties the King and Queen of Sweden in December 2019.
The two leaders expressed satisfaction at the implementation of the Joint Action Plan and Joint Innovation Partnership agreed during Prime Minister Modi's visit to Sweden in 2018.
Prime Minister Modi welcomed Sweden's decision to join the International Solar Alliance (ISA).
The leaders also noted the growing member-ship of the India-Sweden joint initiative – the Leadership Group on Indus-try Transition (LeadIT) that was launched during the UN Climate Action Summit in September 2019 in New York.