Vigilance Awareness Week 2023: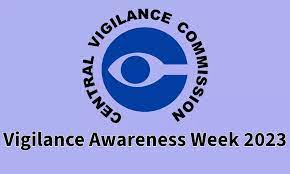 The Central Vigilance Commission (CVC) is observing the Vigilance Awareness Week 2023 from 30th October to 5th November, 2023, centered around the theme "Say no to corruption; commit to the Nation."
This comprehensive initiative demonstrates a concerted effort towards promoting vigilance and combating corruption within government departments and organizations.
CVC is an apex governmental body in India that is responsible for promoting integrity, transparency, and accountability in the country's public administration.
It was established in 1964 based on recommendations of the Santhanam Committee on Prevention of Corruption.