Caretaker Government Of Myanmar: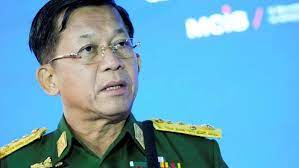 Myanmar army chief appoints himself Prime Minister and also pledged to hold elections by 2023.
The State Administration Council of Myanmar has been reformed as 'Caretaker government of Myanmar' headed by the Chief of the Myanmar military Senior General Min Aung Hlaing as the Prime Minister.
General Hlaing took over power in Myanmar in February after removing the government headed by the State Counsellor Aung San Suu Kyi on February 1, a day before the newly elected parliament was set to meet. Since then, the State Administration Council has been performing the duties of the government in Myanmar.
Myanmar has witnessed regular protests since February against the military government.
According to the human rights watchdog Assistance Association for Political Prisoners (AAPP), 940 people have been killed and 6994 people arrested in protests against the military government till now.