Shaheed Diwas: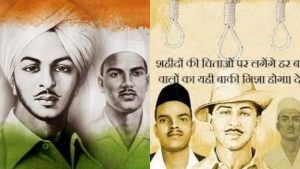 Prime Minister of India paid tributes to Bhagat Singh, Sukhdev, Rajguru on Shaheed Diwas (23rd March).
The Day is also known as Martyrs' Day or Sarvodaya Day.
This Day should not be confused with the Martyrs' Day observed on 30th January, the day Mahatma Gandhi was assassinated.
Every year on 23rd March, Shaheed Diwas is observed.
It was on this day that Bhagat Singh, Sukhdev, and Rajguru were executed by the British government in 1931.
They were hanged to death for assassinating John Saunders, a British police officer in 1928. They had mistaken him for British police superintendent James Scott.
It was Scott who had ordered lathi-charge, which eventually led to the death of Lala Lajpat Rai.
While Singh, who had publicly announced avenging Rai's death, went into hiding for many months after this shootout, he resurfaced along with an associate Batukeshwar Dutt, and the two, in April 1929, set off two explosive devices inside the Central Legislative Assembly in Delhi.
Allowed themselves to be arrested, while shouting the famous slogan: "Inquilab Zindabad", or "Long live the revolution".
Their lives inspired countless youth and in their death, they set an example.
They carved out their own path for independence, where individual heroism and their aggressive need to do something for the nation stood out, departing from the path followed by the Congress leaders then.