India, Israel, The US, UAE Are Participating In The I2U2 Summit: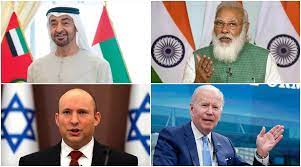 The US President will host a virtual summit with the Prime Minister of India, Israel Prime Minister and UAE President during his visit to West Asia from July 13 to 16. The new grouping will be called "I2U2" — "I" for India and Israel and "U" for the US and UAE.
I2U2 Grouping:
Previously called, the 'International Forum for Economic Cooperation, the group is already being dubbed the 'New Quad' or the 'Middle-Eastern Quad' along the lines of the Quadrilateral Security Dialogue (QSD).
Quadrilateral Security Dialogue (QSD):
The QSD often called the 'Quad' is a strategic dialogue between the United States, India, Japan and Australia.
The dialogue was started in 2007 in response to increasing Chinese aggression in the South China Sea and was accompanied by one of the largest joint military exercises of the modern era, the Malabar Exercise.