Harvest Festivals: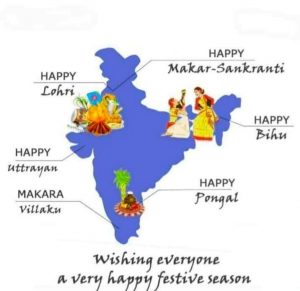 The PM has greeted people across the nation on the occasion of harvest festivals Makar Sankranti, Uttarayan, Bhogi, Magh Bihu and Pongal.
The festivals celebrate the hard work and enterprise of millions of farmers across the country.
Makar Sankranti:
Makar Sankranti denotes the entry of the sun into the zodiac sign of Makara (Capricorn) as it travels on its celestial path.
The day marks the onset of summer and the six months auspicious period for Hindus known as Uttarayan – the northward movement of the sun.
As a part of the official celebration of 'Uttarayan', the Gujarat government has been hosting the International Kite Festival since 1989.
The festivities associated with the day is known by different names in different parts of the country:

Lohri by north Indian Hindus and Sikhs,
Sukarat in central India,
Bhogali Bihu by Assamese Hindus, and
Pongal by Tamil and other South Indian Hindus.
Bihu:
It is celebrated when the annual harvest takes place in Assam. People celebrate Rongali/Magh Bihu to mark the beginning of the Assamese new year.
It is believed that the festival started from the time when people of the valley started tilling the land. Bihu is believed to be as old as river Brahmaputra.
Pongal:
The word Pongal means 'overflow' or 'boiling over'.
Also known as Thai Pongal, the four-day occasion is observed in the month of Thai, when crops such as rice are harvested and people show their gratitude to the almighty and the generosity of the land.
Tamilians celebrate the occasion by making traditional designs known as kolams in their homes with rice powder.