India's Biggest Hyperscale Data Centre Yotta D1: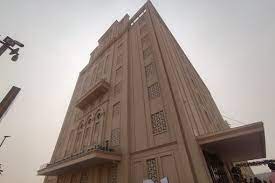 While inaugurating north India's first hyperscale data centre 'Yotta D1', the Chief Minister of Uttar Pradesh explained that the state achieved the target of installing 250 MW of storage capacity with an investment of Rs 20,000 crore within a year of launching its data centre policy.
Yotta D1, built at a cost of Rs 5,000 crore, is the country's biggest and UP's first data centre.
It is spread over an area of 3 lakh square feet at the upcoming Data Centre Park in Greater Noida, Uttar Pradesh.
The data centre will increase data storage capacity of the country, which until now stood at 2% only despite the fact that 20% of the world's data is consumed by Indians.
It is also expected to increase Gross State Domestic Product (GSDP) significantly while creating new avenues for investment and huge employment opportunities.
Yotta D1 features Internet peering exchanges and direct fibre connectivity to and from global cloud operators, making it extremely useful for global connectivity.
Yotta D-1 will be the first pillar of North India's 5G revolution.
India's data analytics industry is estimated to reach more than $16 billion by 2025.
Therefore, paying special attention to promoting investment in data centre infrastructure is a step in the right diretion.
The presence of a data park would allow big companies like Google and Twitter to have a data centre for hosting, processing and storing data.
With 5G and edge data centres rolled out from this centre, consumers will get easy access to videos and banking facilities at a fast pace.