Jupiter : Planet With Most Moons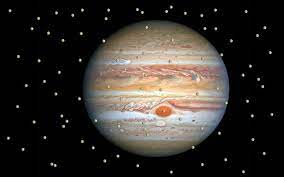 Latest discovery revealed Jupiter has 12 more moons. With this, the count of Jupiter's moons increased to 92. Today Jupiter has the maximum number of moons.
The 12 new moons around Jupiter were discovered by the Smithsonian Astrophysical Observatory
Of the 12 moons discovered, nine are distant
These nine moons take 550 days to orbit Jupiter
Also, the nine moons discovered are relatively small
These nine moons have retrograde orbits.
Meaning their orbiting direction is opposite to that of Jupiter's rotation
The inner moons of Jupiter have prograde orbits, they rotate in the same direction as that of Jupiter.