Prime Minister Narendra Modi's Visit To Greece: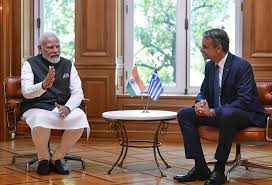 During Indian Prime Minister Narendra Modi's visit to Greece, the two nations elevated their bilateral relationship to a "strategic partnership," focusing on enhancing political, defence, and security cooperation.
A strategic partnership is a long-term interaction between two countries based on political, economic, social and historical factors.
This visit marked the first by an Indian Prime Minister in 40 years.
Greece conferred the Grand Cross of the Order of Honour (Greece's 2nd highest civilian honour) on Modi, making him the first foreign head of government to receive this honour.
The two countries also aimed to double bilateral trade by 2030
Early finalization of the Mobility and Migration Partnership Agreement (MMPA)to facilitate skilled migration between the two countries.
They reaffirmed their commitment to a free and rules-based Indo-Pacific region and the Mediterranean Sea, advocating for international peace, stability, and security.