Indira Gandhi Shahri Rozgar Guarantee Yojana: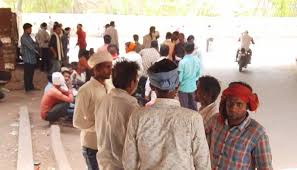 The Rajasthan government has come up with the job description under its much-touted Indira Gandhi Shahri Rozgar Guarantee Yojana.
Announcing the employment scheme for urban areas on the lines of Mahatma Gandhi NREGA for rural areas in his budget speech
While MGNREGA assists people in rural areas, there is no such scheme for street vendors, as well as those working at dhabas and restaurants in urban areas.
Under the scheme, 100 days of employment per year will be provided to families residing in urban areas.
The ratio of cost of material to payment for labour work of "general nature" will be in the ratio of 25:75, while for special works, it will be 75:25.
The focus is on providing as many jobs as possible.
On the other hand, creation of assets will require a higher material component, hence under 'special works' the ratio is 75:25.
All those aged between 18 and 60 years and residing within urban body limits are eligible for the scheme, and in special circumstances such as a pandemic or a calamity, migrant labourers may be included.