Food Emergency In Sri Lanka: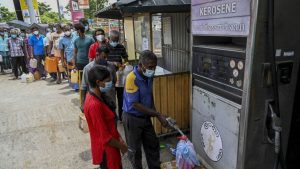 Sri Lankan President, has declared an economic emergency to contain rising food prices, a depreciating currency, and rapidly depleting forex reserves.
The emergency was declared under the Public Security Ordinance on the supply of essential goods.
Factors Responsible for Sri Lankan Economic Crisis:
Underperforming Tourism Industry: The tourism industry, which represents over 10% of the country's Gross Domestic Product and brings in foreign exchange, has been hit hard by the coronavirus pandemic.

As a result, forex reserves have dropped from over $7.5 billion in 2019 to around $2.8 billion in July 2021.

Depreciating Currency: With the supply of foreign exchange drying up, the amount of money that Sri Lankans have had to shell out to purchase the foreign exchange necessary to import goods has risen.

Due to this, the value of the Sri Lankan rupee has depreciated by around 8% so far this year.

Rising Inflation: Sri Lanka depends heavily on imports to meet even its basic food supplies, such as sugar, dairy products, wheat, medical supplies.

So the price of food items has risen in tandem with the depreciating rupee.

Diminishing Inflow of Foregin Currency: The pandemic has affected all major sources of foreign exchange earnings like exports, worker remittances, etc.
Food Shortage: Sri Lankan Government's recent decision to ban import of chemical fertilizers and adopt an "organic only" approach.

This overnight shift to organic fertilizers could impact food production severely.