India's First Indigenous Drone Defence Dome : "Indrajaal".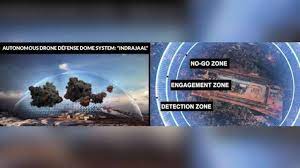 Hyderabad-based technology R&D firm Grene Robotics has designed and developed India's first indigenous drone defence dome called "Indrajaal".
The drone defence dome has the capability to autonomously protect an area of 1000-2000 sq km against the aerial threats by assessing and acting on aerial threats such as Unmanned Aerial Vehicles (UAVs), loitering munitions, and Low- Radar Cross Section (RCS) targets.
The ANTI-UAV systems will not only provide protection to defence bases but it will be beneficial for linear infrastructures like international borders against advanced weaponry.
Salient features of Indrajaal

Real-time situational awareness
Integrated and Intelligent meshed network
Integrated all current weapons suite and infrastructure
Honeycombed cell structure for seamlessly built
Synergic combination of 9-10 technologies
24×7 persistent and autonomous monitoring, action and tracking

The path-breaking development is imperative because manual weapons and point-based defence systems can't defend modern warfares, which are operated by Artificial Intelligence (AI) and robotics.
For the first time in India and many times, globally rogue forces have adopted cutting-edge technologies such as UAVs, Smart Swarms, etc.
Jammu Air Base on June 27th was attacked by such technologies to drop explosives next to the Mi-17 hangar.
Capable of real-time situational awareness, Indrajaal comprises all current weapons suite and infrastructure along with a honeycombed cell structure to provide a seamlessly built over a combination of 9-10 technologies for 24×7 persistent monitoring, tracking and action.