UN World Economic Situation And Prospects 2023 Report: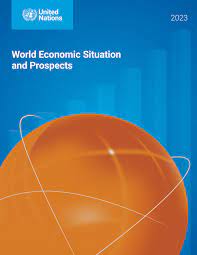 The United Nations Department of Economic and Social Affairs launched the "World Economic Situation and Prospects" report or simply the World Economy Report.
The report says that the economic growth of the world is slowing down. It is to reach 1.9% in 2023 from 3% in 2022.
Findings of the Report:
Increasing inflation is to affect the private-sector investments
Global Inflation is to remain at 6.5% in 2023
Banks are to increase the interest rates and therefore, the overall economic growth of countries will be at stake
Countries will face recession as they enter 2024
The countries are to face heavy challenges in achieving the Sustainable Development Goals
Poverty levels are to increase
People will face unemployment.
Those who are already in the job will encounter job insecurity
Losses in women's employment
More than 350 million are to face food insecurity