UN Military Observer Group In India And Pakistan: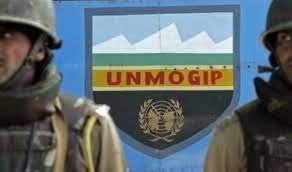 U.N. Secretary General has appointed Rear Admiral Guillermo Pablo Rios of Argentina as the Head of Mission and Chief Military Observer for the United Nations Military Observer Group in India and Pakistan (UNMOGIP).
UNMOGIP was established in January 1949.
After the first war in Kashmir (1947-1948), India approached the United Nations Security Council (UNSC) to bring the conflict in Kashmir to the notice of Security Council members.
In January 1948, the UNSC adopted Resolution 39, establishing the three-member United Nations Commission for India and Pakistan (UNCIP) to investigate and mediate the dispute.
In April 1948, by its Resolution 47, the UNCIP was reconstituted as UNMOGIP.
The Karachi Agreement of July 1949 firmed up the role of UN-level military observers and permitted supervision of the Ceasefire Line established in Jammu and Kashmir.
After the 1st Indo-Pak armed conflict in 1948 under the supervision of the UNCIP, military representatives of both Pakistan and India met in Karachi and signed the Karachi Agreement on 27th July 1949.
It established a Cease-Fire Line (CFL) in Kashmir.
UNMOGIP has six field stations in Pakistan-administered Kashmir (PAK) and four field stations in Indian-administered Kashmir (IAK) to monitor ceasefire.
Following renewed hostilities of 1971, UNMOGIP has remained in the area to observe developments pertaining to the strict observance of the ceasefire of 17 December 1971 and report thereon to the UN Secretary-General.