International Day Of The Girl 2023: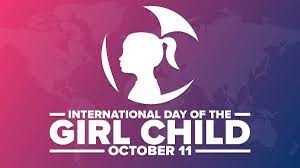 International Day of the Girl Child, observed annually on 11th October was first celebrated in 2012.
The Beijing Declaration and Platform for Action in 1995, proposed an action plan to advance the rights of girls.
In 2011, the United Nations General Assembly adopted Resolution 66/170 to declare 11th October as the International Day of the Girl Child.
Theme of International Day of the Girl 2023: "Invest in Girls' Rights: Our Leadership, Our Well-being."
The day aims to focus on the importance of girls' education, their rights, and promoting gender equality.
It urges the global community to move beyond reaffirming commitments and invest boldly in the action needed to make changes that could empower girls.