Goa Liberation Day :19th December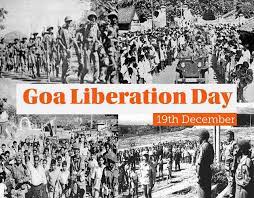 December 19 is celebrated as Goa Liberation Day.
The day is celebrated annually to mark the success of 'Operation Vijay' undertaken by the Indian armed forces to defeat Portuguese colonial forces and liberate Goa in 1961.
Operation Vijay – a 36-hour military operation (started on December 18, 1961 and concluded on December 19, 1961), was about the liberation of the Portuguese territories of Goa, Daman and Diu.
This was possibly the Indian armed forces' first tri-service operation.
The Indian Air Force bombed the Portuguese airbase at Dabolim while the army advanced from the north and east into Goa.
The Indian Navy was tasked with preventing hostile action by Portuguese warships, securing access to Mormugao harbour, and securing the Anjadip Island off the coast of Karwar.
By the evening of December 19, 1961, Portuguese Governor General Vassalo De Silva had signed the surrender document after Indian armed forces (led by the army and backed by the air force and navy) had outnumbered and outgunned the Portuguese.
As a result, Goa was brought under the control of the Indian government and became a part of the Indian Union as the Union Territory of Goa, Daman and Diu.
However, in 1967, a plebiscite was held to determine whether or not the state should merge with Maharashtra and the majority of Goans voted against a merger.
It remained a Union Territory until 1987, when it was granted statehood. Goa became India's 25th state, while Daman and Diu remained a Union Territory.