INS Sahyadri: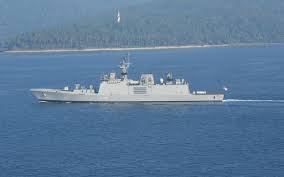 Indian Navy's INS Sahyadri joined two frontline warships of France in carrying out a two-day maritime partnership exercise in the Arabian Sea.
The INS Sahyadri is a Shivalik class multi-role stealth frigate.
It is equipped with cutting-edge weapons and sensors, enabling her to identify and eliminate threats from the air, the surface, and the subsurface.
The vessel is a member of the Eastern Fleet of the Indian Navy, which is located in Visakhapatnam.
The maritime partnership exercise witnessed a wide spectrum of evolutions at sea which included cross-deck landings, boarding exercises and seamanship evolutions.
The seamless conduct of the exercise reaffirmed the interoperability and high level of cooperation between the two navies.
Stealth Frigates under the Shivalik class series namely INS Shivalik, INS Sahyadri, and INS Satpura are the first stealth warships built in India (by Mazagon Dock Limited).