Padma Awards: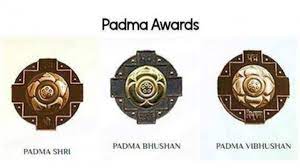 This year the President has approved conferment of 128 Padma Awards including 2 duo case (in a duo case, the Award is counted as one).
The list comprises 4 Padma Vibhushan, 17 Padma Bhushan and 107 Padma Shri Awards.
34 of the awardees are women and the list also includes 10 persons from the category of Foreigners/NRI/PIO/OCI and 13 Posthumous awardees.
Padma Vibhushan (4):
Prabha Atre (Art)
Shri Radheyshyam Khemka – Posthumous (Literature and Education)
General Bipin Rawat – Posthumous (Civil Service)
Shri Kalyan Singh – Posthumous (Public Affairs)
Padma Bhushan(17):
Shri Ghulam Nabi Azad (Public Affairs)
Shri Victor Banerjee (Art)
Gurmeet Bawa – Posthumous (Art)
Shri Buddhadeb Bhattacharjee (Public Affairs)
Shri Natarajan Chandrasekaran (Trade and Industry)
Shri Krishna Ella and Smt. Suchitra Ella – Duo (Trade and Industry)
Madhur Jaffery (Others-Culinary)
Shri Devendra Jhajharia (Sports)
Shri Rashid Khan (Art)
Shri Rajiv Mehrishi (Civil Service)
Shri Satya Narayana Nadella (Trade and Industry)
Shri Sundararajan Pichai (Trade and Industry)
Shri Cyrus Poonawalla (Trade and Industry)
Shri Sanjaya Rajaram – Posthumous (Science and Engineering)
Pratibha Ray (Literature and Education)
Swami Sachidanand (Literature and Education)
Shri Vashishth Tripathi (Literature and Education)