Institution Of Eminence Scheme: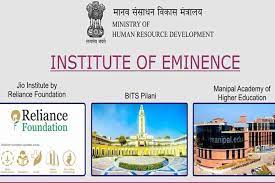 There are many Institutes which, after being selected for the Institution of Eminence (IoE) Status, are still waiting for the IOE status for more than three years.
The central Government formulated the IoE scheme to establish 20 prestigious educational institutions in the country.
It was introduced by the University Grants Commission (UGC) in 2017 that required the IoE scheme to receive accreditation within five years of notification.
The status of 'Institute of Eminence' was launched to empower higher education institutions in India and help them implement world-class teaching systems to enhance affordable access to high-quality education.
Twenty institutions (10 Public and 10 Private Institutions) received the grant, and eleven among the selected ones got the Institutions of Eminence status in April 2021.