MP Local Area Development Scheme (MPLADS)::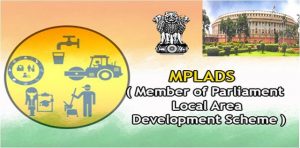 MPs have written to Speaker Om Birla to restart the Member of Parliament Local Area Development Scheme (MPLADS).
The Union government had resorted to Disaster Management Act to suspend the member of Parliament local area development (MPLAD) scheme in April 2020.
About MPLAD scheme:
Launched in December 1993.
Seeks to provide a mechanism for the Members of Parliament to recommend works of developmental nature for creation of durable community assets and for provision of basic facilities including community infrastructure, based on locally felt needs.
The MPLADS is a Plan Scheme fully funded by the Government of India.
The annual MPLADS fund entitlement per MP constituency is Rs. 5 crores.
MPs are to recommend every year, works costing at least 15 percent of the MPLADS entitlement for the year for areas inhabited by Scheduled Caste population and 7.5 per cent for areas inhabited by S.T. population.
Funds are released in the form of grants-in-aid directly to the district authorities.
The funds released under the scheme are non-lapsable.
The liability of funds not released in a particular year is carried forward to the subsequent years, subject to eligibility.
The MPs have a recommendatory role under the scheme.
The district authority is empowered to examine the eligibility of works, sanction funds, and select the implementing agencies, prioritize works, supervise overall execution, and monitor the scheme at the ground level.
At least 10% of the projects under implementation in the district are to be inspected every year by the district authority.