National Medical Commission : WFME Recognition Status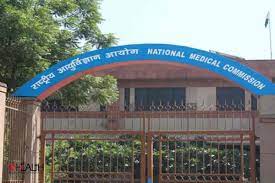 The National Medical Commission (NMC) of India has been recently awarded World Federation for Medical Education (WFME) Recognition status for a tenure of 10 years.
WFME is a global organisation concerned with the education and training of medical doctors.
WFME's mission is to strive for better health care for all mankind.
WFME's primary objective is to enhance the quality of medical education worldwide, with the promotion of the highest scientific and ethical standards in medical education.
It was founded in 1972 and is headquartered in Ferney-Voltaire, France.
It is the organisation that officially and globally represents medical teachers and medical teaching institutions before the World Health Organization(WHO).
WFME's accreditation program plays a pivotal role in ensuring that medical institutes meet and uphold the highest international standards of education and training
Importance of WFME Recognition Status to NMC:
It will enable Indian medical graduates to practice or pursue post-graduation in countries including the US, Canada, Australia, and New Zealand, where WFME recognition is a prerequisite.
All 706 existing medical colleges in India have received WFME accreditation. Any new medical colleges established in the next 10 years will also automatically gain WFME accreditation status.
It will enable the commission to enhance the quality and standards of medical education in India by aligning it with global best practises and benchmarks.
It will also augment the international recognition and reputation of Indian medical institutions and professionals, foster academic collaborations and exchanges, and promote ongoing improvements and innovation in medical education.
National Medical Commission (NMC):
NMC is a statutory body established under the National Medical Commission Act, 2019.
The NMC replaced the erstwhile Medical Council of India (MCI), which was established in 1934.