Egypt resumed the severed diplomatic and economic ties with Qatar.: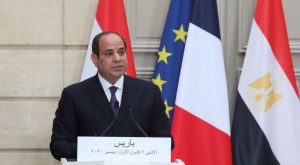 Egypt was part of an Arab quartet (other members were Saudi Arabia, United Arab Emirates and Bahrain) which had accused Qatar of supporting terrorism and being too close to Iran due to which they had imposed a land, air and naval blockade on Qatar in 2017.
Reasons for the Reassumption of Ties:
Solidarity and Stability Deal:
Recently, Gulf states signed a 'solidarity and stability' deal at the 41st Gulf Cooperation Council (GCC) summit.
Bahrain, Kuwait, Oman, Qatar, Saudi Arabia and UAE are the members of GCC.
In this summit, members of the GCC removed all the sanctions over Qatar and reopened their land, sea and air borders to Qatar.
In solidarity with the Arab quartet (whose three members are in GCC), Egypt too resumed its ties with Qatar.
To Unite Against Iran:
Egypt conciliated with Qatar to strengthen the Gulf region against the threats posed by the Iranian regime's nuclear and ballistic missile programme which has always been opposed by the USA and GCC members.
Growing Power of Qatar:
Qatar is one of the world's largest natural gas producers and among the countries with the highest per-capita income, and is also host of the 2022 Football World Cup.
Under the Government of Mohamad Morsi (2012-13), Qatar was the highest investor in Egypt.
Support from USA:
The United States and Qatar have extensive economic ties. The USA is the largest foreign direct investor and its single largest destination of exports.
Due to good mutual relations between Qatar and USA, the USA mediated the solidarity and stability deal to unite all the gulf countries against Iran which also triggered Egypt's reconciliation.