Question Hour: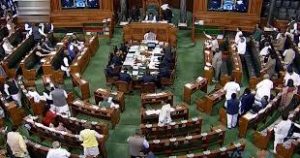 Question Hour, which had been suspended by the government during the monsoon session, will resume when Parliament meets for the budget session.
The suspension was done in view of the Covid-19 pandemic. The government had also canceled the winter session of Parliament citing a rising number of Covid cases.
Question Hour :
The first hour of every parliamentary sitting is slotted for the Question Hour. However, in 2014, the Question Hour was shifted in the Rajya Sabha from 11 am to 12 noon.
During this one hour, Members of Parliament (MPs) ask questions to ministers and hold them accountable for the functioning of their ministries.
The questions can also be asked to the private members (MPs who are not ministers).
Regulation: It is regulated according to parliamentary rules.
The presiding officers of the both Houses (Rajya Sabha and Lok Sabha) are the final authority with respect to the conduct of Question Hour.
Types of Questions: There are three kinds of questions asked:
Starred question (distinguished by an asterisk): This requires an oral answer and hence supplementary questions can follow.
Unstarred question: This requires a written answer and hence, supplementary questions cannot follow.
Short notice question: It is one that is asked by giving a notice of less than ten days. It is answered orally.
Frequency: Question Hour in both Houses is held on all days of the session.
But there are two days when an exception is made.
When the President addresses MPs from both Houses.
The President's speech takes place at the beginning of a new Lok Sabha and on the first day of a new Parliament year.
On the day the Finance Minister presents the Budget.
Previous Sessions Without Question Hour:
In the past too, the Question Hour has been suspended. They were suspended during national emergencies.