Iran Nuclear Deal: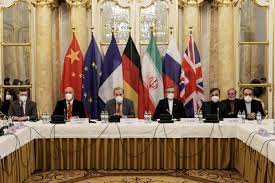 There has been a fresh round of talks over Iran's nuclear programme in Vienna to revive the 2015 nuclear deal which is also known as the Joint Comprehensive Plan of Action (JCPOA).
Officials from various countries including Iran were meeting for the first time since March 2022.
The Joint Comprehensive Plan of Action aims to guarantee the civilian nature of Iran's nuclear programme in exchange for a gradual lifting of sanctions.
Iran signed the agreement with the five permanent members of the U.N. Security Council — the U.S., Russia, France, China, and the United Kingdom — as well as Germany and the European Union.
Under the deal, Iran agreed to significantly cut its stores of centrifuges, enriched uranium and heavy-water, all key components for nuclear weapons.
Iran also agreed to implement a protocol that it would allow inspectors from the International Atomic Energy Agency (IAEA) to access its nuclear sites to ensure Iran would not be able to develop nuclear weapons in secret.