Golden Visa: UAE: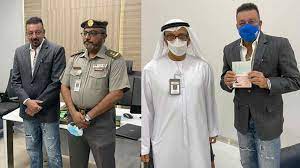 Bollywood actor Sanjay Dutt recently received his Golden visa from the UAE government.
In 2019, the United Arab Emirates (UAE) implemented a new system for long-term residence visas, thereby enabling foreigners to live, work and study in the UAE without the need of a national sponsor and with 100 percent ownership of their business.
The Golden Visa system essentially offers long-term residency (5 and 10 years) to people belonging to the following groups: investors, entrepreneurs, individuals with outstanding talents the likes of researchers, medical professionals and those within the scientific and knowledge fields, and remarkable students.
The main benefit of the visa will be security as through the issuance of the Golden Visa, the UAE government has made it clear that they are committed to providing expatriates, investors, and essentially everyone looking to make the UAE their home an extra reason to feel secure about their future.