Aatmanirbharta' Or Self-Reliance: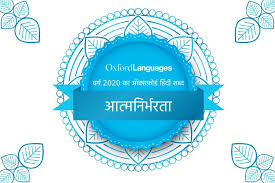 Oxford Languages has chosen 'Aatmanirbharta' or self-reliance as its Hindi word of the year for 2020.
The 2019 Oxford Hindi word of the year was "Samvidhaan" or Constitution as the panelists felt that in 2019, the abrogation of Article 370 and the Supreme Court's judgment on the Ram Janmabhoomi-Babri Masjid dispute brought attention to the Constitution.
Even so, while the word of the year shows that the term resonated with the people during a given year, it does not guarantee its addition to the Oxford dictionary.
Oxford's Word of the Year is a word or an expression that has attracted a great deal of interest in the preceding year.
For 2020, Oxford Languages has not chosen a single word in English since they believe that the year cannot be summed up using one single word.
Therefore, this year they have released a report titled, "Words of an Unprecedented Year" in which they have analyzed themes such as COVID-19 and terms related to it such as lockdown, social distancing, Black Lives Matter, etc.
In 2019, the English word of the year was "climate emergency", in 2018 it was "toxic" and in 2017 it was "Youthquake".