Jaadui Pitara : Learning Material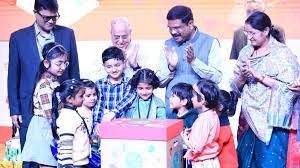 Union Education Minister recently launched an innovative learning material for foundational years of children called "Jaadui Pitara".
'Jaadui Pitara' is a play-based learning material for children in the age group of three to eight years.
It is launched by the Union Ministry of Education.
It has been designed on the motto of "learning through play", as envisaged in the new National Education Policy (NEP).
It comprises of playbooks, toys, puzzles, posters, flashcards, storybooks, and worksheets, as well as reflecting the local culture, social context, and languages.
It is designed to pique curiosity and accommodate the diverse needs of learners at the foundational stage.
It is developed under the curricular goals of National Curriculum Framework for Foundational Stage (NCF-FS) as recommended by the National Education Policy (NEP) 2020.
The resources on 'Jaadui Pitara' will be digitally available on DIKSHA platform – portal and mobile app.
The pitara is available in 13 Indian languages.
National Curriculum Framework for Foundational Stage (NCF-FS):
It is one of the four National Curriculum Frameworks (NCFs).
It is India's first-ever integrated Curriculum Framework for children between ages 3-8.
It is a direct outcome of the 5+3+3+4 'curricular and pedagogical' structure that NEP 2020 has recommended for School Education.