Swachh Bharat Abhiyan is one of the most significant and popular missions to have taken place in India. Swachh Bharat Abhiyan translates to Clean India Mission. This drive was formulated to cover all the cities and towns of India to make them clean. It was launched on 2nd October in order to honor Mahatma Gandhi's vision of a Clean India.
The cleanliness campaign of Swachh Bharat Abhiyan was run on a national level and encompassed all the towns, rural and urban. It served as a great initiative in making people aware of the importance of cleanliness.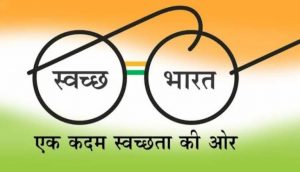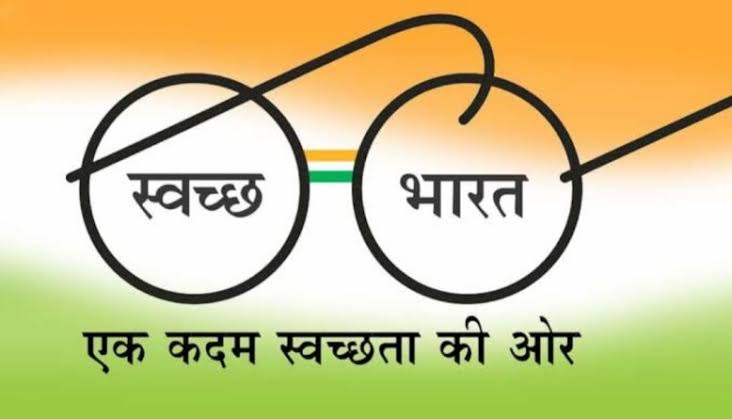 Contents:
Background
Objective
Action plan.
Swachh Bharat mission rural
Swachh Bharat mission urban
Mission coordinator
Swach Vidyalaya campaign
Rashtriya Swachta Kosh.
Current updates on the mission.
Background:
A formal sanitation program was first launched in 1954, followed by Central Rural Sanitation Programme in 1986, Total Sanitation Campaign (TSC) in 1999 and Nirmal Bharat Abhiyan in 2012.
However, there was no improvement in the health of children.
The earlier "Nirmal Bharat Abhiyan" rural sanitation program was hampered.
Consequently, Nirmal Bharat Abhiyan was restructured by Cabinet approval on 24 September 2014 as Swachh Bharat Abhiyan
Swachh Bharat Abhiyan campaign, launched on 2 October 2014 on Gandhi Jayanti, aims to eradicate open defecation by 2 October 2019, the 150th anniversary of the birth of Mahatma Gandhi, by constructing 90 million toilets in rural India.
Objective: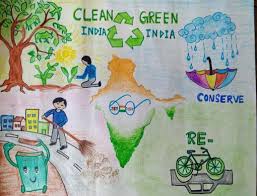 The major objective of the Swachh Bharat Abhiyan is to spread the awareness of cleanliness and the importance of it.
The concept of Swachh Bharat Abhiyan is to provide basic sanitation facilities like toilets, solid and liquid waste disposal systems, village cleanliness and safe and adequate drinking water supply to each and every person.
Action plan: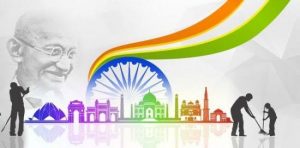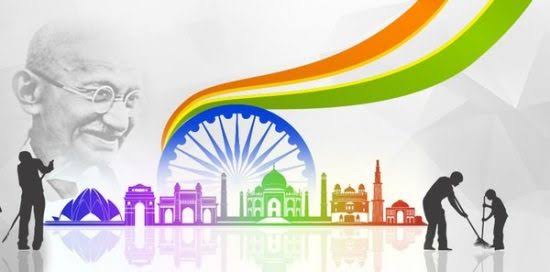 Improve the growth percentage of toilets from 3% to 10% by 2019
Increase in the construction of toilets from 14000 to 48000 daily
Launch of a National Level/State Level Media campaign through audiovisual, mobile telephony and local programs to communicate the message of awareness.
Involvement of school children in the activities for spreading awareness on Water, Sanitation, and Hygiene.
Swachh Bharat Mission for Urban Areas
The program includes the elimination of open defecation, conversion of unsanitary toilets to pour flush toilets, eradication of manual scavenging, municipal solid waste management and bringing about a behavioral change in people regarding healthy sanitation practices.
The mission aims to cover 1.04 crore households, provide 2.5 lakh community toilets, 2.6 lakh public toilets, and a solid waste management facility in each town.
Under the program, community toilets will be built in residential areas where it is difficult to construct individual household toilets. Public toilets will also be constructed in designated locations such as tourist places, markets, bus stations, railway stations, etc.
The program will be implemented over a five-year period in 4,401 towns.
The total assistance available for construction of an individual toilet is Rs 4000/- from the Central Government and a number of Rs 1333/- at least from the State Government.
Swachh Bharat Mission (Gramin)
The Nirmal Bharat Abhiyan has been restructured into the Swachh Bharat Mission (Gramin).
The mission aims to make India an open defecation free country in Five Years.
It seeks to improve the levels of cleanliness in rural areas through Solid and Liquid Waste Management activities and making Gram Panchayats Open Defecation Free (ODF), clean and sanitized.
Under the mission, One lakh thirty-four thousand crore rupees will be spent for construction of about 11 crores 11 lakh toilets in the country.
Incentive, as provided under the Mission for the construction of Individual Household Latrines (IHHL), shall be available for all Below Poverty Line (BPL) Households and Above Poverty Line (APL) households restricted to SCs/STs, small and marginal farmers, landless laborers with homestead, physically handicapped and women-headed households.
The Incentive amount shall be up to Rs.12,000 for construction of one unit of IHHL and provide for water availability, including for storing for hand-washing and cleaning of the toilet.
Central Share  (75%) from Swachh Bharat Mission (Gramin).
The State share will be (25%).
Mission coordinator:
The Mission Coordinator shall be :
Secretary, Department of Drinking Water and Sanitation (DDWS),
Ministry of Jalshakti with two Sub-Missions – the Swachh Bharat Mission (Gramin) and the Swachh Bharat Mission (Urban).
Swachh Vidyalaya Abhiyan:


The Ministry of Human Resource Development has launched Swachh Vidyalaya Programme under Swachh Bharat Mission with an objective to provide separate toilets for boys and girls in all government schools within one year.
The program aims at ensuring that every school in the country must have a set of essential interventions that relate to both technical and human development aspects of a good Water, Sanitation and Hygiene Programme.
The Ministry financially supports States/Union Territories inter alia to provide toilets for girls and boys in schools under Sarva Shiksha Abhiyan (SSA) and Rashtriya Madhyamik Shiksha Abhiyan (RMSA).
The Swachh Bharat Kosh (SBK) has been set up to facilitate and channelize individual philanthropic contributions and Corporate Social Responsibility (CSR) funds to achieve the objective of Clean India (Swachh Bharat) by the year 2019.
The Kosh will be used to achieve the objective of improving cleanliness levels in rural and urban areas, including in schools. The allocation from the Kosh will be used to supplement and complement departmental resources for such activities.
Ranking of cities: Every year, cities and towns across India are awarded the title of 'Swachh Cities' on the basis of their cleanliness and sanitation drive as a part of the Swachh Bharat Abhiyan that was launched in 2014.
Indore in Madhya Pradesh is India's cleanest city and Gonda in Uttar Pradesh the filthiest
Out of 10 cleanest cities, 2 are from Madhya Pradesh, Gujarat and Andhra Pradesh each while Karnataka, Tamil Nadu, Delhi and Maharashtra each have one
Out of 10 dirtiest cities, Uttar Pradesh has 5 cities, 2 each from Bihar and Punjab and one of Maharashtra
118 out of 500 cities were found to be Open Defecation Free (ODF)
297 cities have 100% door to door collection of garbage
37 lakh citizens showed interest in Swachh Surveksan
There are 404 cities where 75% of residential areas were found substantially clean
Gujarat has a maximum of 12 cities among the top 50 cleanest, followed by Madhya Pradesh with 11 and Andhra Pradesh with eight
According to the survey among top 50 clean cities:
Gujarat has a maximum of 12 cities followed by
Madhya Pradesh with 11 and
8 in Andhra Pradesh
Telangana and Tamil Nadu account for 4 cities each followed by
Maharashtra with 3 cities.
Prime Minister of India Narendra Modi received the award of "Global Goalkeeper" from the Gates Foundation for the initiative of Swachh Bharat Abhiyan on September 25, 2019, in New York.
Toilet Reported
1019.78 lakh Toilet Built. since 2nd Oct 2014
61.30% increase in HHs with Toilet since 2nd Oct 2014
15,92,063 Toilet Built in 2019-20
706 No. of ODF Districts Self Declared
2,62,734 No. of ODF Gram Panchayats Self Declared
6,03,175 No. of ODF Villages Self Declared
Official website – https://swachhbharatmission.gov.in/sbmcms/index.htm