Sahitya Akademy Awards 2022: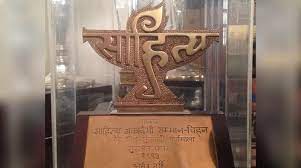 The awards, recommended by distinguished jury members were approved by the Executive Board of the Sahitya Akademy under its President Chandrashekhar Kambar.
The awards in 23 languages included seven books of poetry, six of novel, two of short stories, three dramas, two literary criticism and one each of autobiographical essays, collection of articles and literary history.
Tamil author Rajendran, Telugu writer Madhuranthakam Narendra and Sanskrit Poet Janardan Prasad Pandey 'Mani' were among those selected.
The Bhasha Samman was awarded to Udaya Nath Jha for his valuable contribution to the field of classical and medieval literature in the eastern region.
In Assamese language, Manoj Kumar Goswami won the award for his collection of short stories Bhool Satya;Anuradha Roy won in English language for her novel All the Lives we never lived; Gulam Mohammad Shaikh won in Gujarati for Gher Jatan, a collection of autobiographical essays.
Sahitya Akademy Awards:
The Sahitya Akademi Awardis a literary honour in India, which the Sahitya Akademi, India's National Academy of Letters, annually confers on writers of the most outstanding books of literary merit published in any of the 22 languages of the 8th Schedule to the Indian constitution as well as in English and Rajasthani language.