Jaderi Namakatti : GI Tag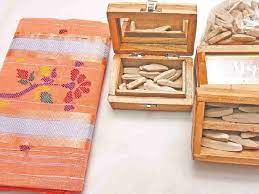 The Jaderi namakatti was given the GI tag by the Geographical Indications Registry in Chennai.
Jaderi namakatti are clay sticks that are white in colour, usually available in finger-like shape with a smooth texture.
Jaderi is a small village in Tiruvannamalai district of Tamil Nadu.
There are around 120 families in Cheyyar taluk whose primary occupation has been the making of namakatti for more than hundreds of years now.
Namakatti is made up of the rich deposit of hydrous silicate minerals that form fine grain particles of clay.
The clay is processed and shaped in a finger like structure.
The production of namakatti depends on the climatic condition as it needs a lot of sunlight to dry.
It is used to adorn the foreheads of idols, men, and temple elephants as well as traditionally to treat stretch marks caused by by childbirth.