China Building a Second Bridge On The Pangong Tso Lake: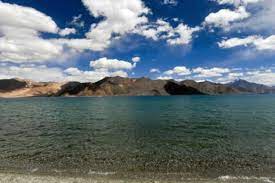 The Ministry of External Affairs has confirmed that China is building a second bridge on the Pangong Tso lake.
The site of the bridge is around 20 km east of Finger 8 on the lake's north bank – where the Line of Actual Control (LAC) passes.
However, the actual distance by road is more than 35 km between the bridge site and Finger 8.
The construction site is just east of Khurnak Fort, where China has major frontier defence bases.
China calls it Rutong Country.
It has a frontier defence company at the Khurnak Fort, and further east, a water squadron deployed at Banmozhang.
Although it is being built in territory that is under China's control since 1958, the exact point is just west of India's claim line.
The Ministry of External Affairs considers the area as illegally occupied by China.
The bridges are at one of the narrowest points on the lake, close to the LAC.
These constructions will connect both sides of the lake, which would significantly cut down time for the People's Liberation Army (PLA) to move troops and armored vehicles.
The induction of troops from the G219 highway (Chinese national highway) would come down by 130 km due to this bridge.
Pangong Tso
Pangong Tso is a 135-km long landlocked lake located at an altitude of over 14,000 feet i.e., 4350 m above sea level.
Indian and China have around one-third and two-thirds of Pangong Tso Lake respectively.
India has around 45 km of Pangong Tso under its control while approximately 60% of the lake, in terms of length, lies in China,
The eastern end of Pangong Tso lies in Tibet.
The lake, a glacial melt, has mountain spurs of the Chang Chenmo range jetting down, referred to as fingers.
It is one of the highest altitude lakes in the world that is filled with saline water.
However, even though it is a saline water lake, Pangong Tso freezes completely.
The brackish water of this region has very low micro-vegetation.
No aquatic life or fish, except crustaceans during winters are found.
It is a kind of endorheic basin, which implies that it retains its water and does not allow outflow of its water to other external water bodies, such as oceans and rivers.
Pangong Tso is popular for its changing colour ability.
Its colour changes from shades of blue to green to red.