Kaas Plateau : Climate And Environmental Changes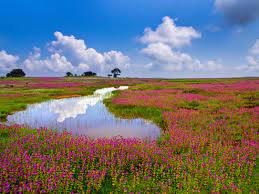 A recent study by the Agharkar Research Institute (ARI), Pune along with the National Centre for Earth Sciences, Thiruvananthapuram decoded climate and environmental changes on Kaas Plateau.
Key findings:
Sediment profile dating back to 8000 years which helped decode climatic signatures indicated a relatively reduced rainfall and weak southwest monsoon during the late Holocene (around 2827 years BP).
The seasonal lake in the Kaas Plateau is probably a product of an erosional localized shallow depression on a pediment (rock debris) developed over the crust.
During the early to mid-Holocene, at around 8664 years ago, pollen, as well as diatom data, indicated a change in the climate from freshwater to drier conditions with low rainfall.
Surprisingly, there was a significant rise in the number of diatoms in between.
This suggests a major shift in the Indian summer Monsoon activity during that time, possibly resulting in intermittent humid periods amidst the dry spells.
There was a decrease in rainfall and a weakened southwest Monsoon during the late Holocene (around 2827 years BP).
During the recent past (around last 1000 years), pollen, as well as the presence of a high number of planktonic and pollution-tolerant diatom taxa indicated lake eutrophication, possibly due to human impact and cattle/livestock farming in the catchment.
Kaas Plateau:
It is nestled in the Western Ghats is about 140 km from Pune.
It is part of the Western Ghats which was declared as world natural heritage site by United Nations Educational, Scientific and Cultural Organisation (UNESCO) in 2012
It is known as Kaas Pathar in Marathi, its name is derived from the Kaasa tree, botanically known as Elaeocarpus glandulosus (rudraksha family).