Environmental-Social-Governance: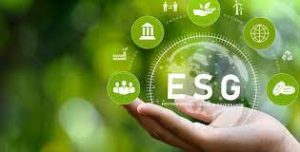 Indian Institute of Corporate Affairs, an autonomous institution under the aegis of the Ministry of Corporate Affairs, Government of India recently launched a programme to create 'impact leaders' in the areas of Environmental-Social-Governance (ESG).
Environmental-Social-Governance is a term that has been coined to refer to specific data designed to be used by investors for evaluating the material risk that the organization is taking on based on the externalities it is generating.
ESG can be categorised as:

Environmental aspect: Data is reported on climate change, greenhouse gas emissions, biodiversity loss, deforestation, pollution, energy efficiency and water management.
Social aspect: Data is reported on employee safety and health, working conditions, diversity, equity, and inclusion, conflicts and humanitarian crises and is relevant in risk and return assessments directly through results in enhancing (or destroying) customer satisfaction and employee engagement.
Governance aspect: Data is reported on corporate governance such as preventing bribery, corruption, diversity of Board of Directors, executive compensation, cybersecurity and privacy practices, management structure, executive pay, diversity in leadership, manner in which the leadership responds to and interacts with shareholders, audits, internal controls, and shareholder rights.