Kashi-Tamil Sangamam: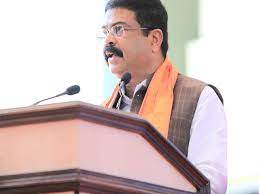 The Union Government recently announced a month-long programme to "strengthen" and "rekindle" the cultural and civilisational bond between Tamil Nadu and Varanasi.
'Kashi-Tamil Sangamam' programme would be held from November 16 to December 16.
This programme, which would be a part of the 'Ek Bharat Shreshtha Bharat' initiative which is aimed at rekindling the civilisational link between the new Kashi and Tamil Nadu both deep centres of knowledge.
Building a heritage bridge for the new generation was a key feature of the National Education Policy.
As part of the programme, 2,500 people divided into 12 groups would be travelling to Varanasi by train during the period.
The journey points in Tamil Nadu would be Chennai, Rameswaram and Coimbatore.
The groups would include students, teachers, artisans and people from various walks of life.
The tours would include seminars, lectures, group meetings and visits to the Kashi Vishwanath temple and centres of important Tamil cultural heritage in Varanasi.
The knowledge partners for the programme would be IIT-Madras and the Banaras Hindu University, while the Uttar Pradesh government would be the host State.