Kerala University Laws (Amendment) Bills: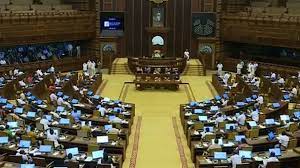 Kerala Assembly passes University Laws (amendment) Bills to amend laws relating to the governance of State universities and remove the Governor as the Chancellor of State universities.
The Governor and the State Government of Kerala had been at loggerheads for months now.
It got worse when the Governor denied assent to the controversial Lok Ayukta (Amendment) and University Laws (Amendment) Bills earlier passed by the State Assembly.
The worsening relationship between the State Government and governor reached a tipping point with the Supreme Court order invalidating APJ Abdul Kalam Technological University (KTU) Vice-Chancellor's (VC) appointment on the grounds that it violated University Grants Commission (UGC) regulations.
Following this, the governor had sought the resignations of 11 other VCs on the ground that the government had appointed them through the same process deemed unlawful by the Supreme Court.
University Laws (Amendment) Bills:
The proposed legislation will amend the statutes of 14 universities established by legislative Acts in Kerala and remove the Governor as the Chancellor of those universities.
The Bills will supplant the Governor and give the government power to appoint eminent academicians as Chancellors of various universities, thus ending the Governor's watchdog role in university administration.
The Bills also provide provision to limit the term of the appointed chancellor to five years. However, it also says that the serving chancellor can be reappointed for another term.