Syama Prasad Mookerjee Port: Inaugural Shipment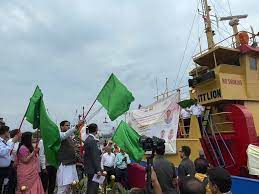 Minister of State for Ports, Shipping and Waterways, Shantanu Thakur flagged off an inaugural shipment from Syama Prasad Mookerjee Port in Kolkata to operationalise the Sittwe Port in Myanmar.
Port of Kolkata or Kolkata Port, officially known as Syama Prasad Mookerjee Port Trust (Formerly Kolkata Port Trust), is the only riverine major port of India, located in the city of Kolkata, West Bengal, around 203 kilometres from the sea.
It is the oldest operating port in India and was constructed by the British East India Company in 1870.
Kolkata is a freshwater port with no variation in salinity.
The port has two distinct dock systems — Kolkata Docks at Kolkata and a deep water dock at Haldia Dock Complex, Haldia.
Syama Prasad Mukherjee:
Syama Prasad Mukherjee (1901 – 1953) was an Indian politician, barrister and academician.
He served as the Minister for Industry and Supply in Prime Minister Jawaharlal Nehru's cabinet.
He quit the Union Government because of differences of opinion with the Nehru-led government and founded the Bharatiya Jana Sangh, the predecessor to the Bharatiya Janata Party, in 1951.