Krishna River Water Dispute: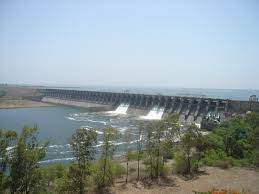 Telangana and Andhra Pradesh have submitted in the Supreme Court that there is no information forthcoming from Karnataka for the past 14 years about how much Krishna river water it has diverted.
In turn, Karnataka argued that a lot water is going waste —"flowing down into the ocean" — and there is a need to harness it for irrigation and to replenish dry regions.
Karnataka has sought the vacation of a November 16, 2011 of the Supreme Court which stopped the Centre from publishing in the Official Gazette the final order of the Krishna Water Disputes Tribunal II (KWDT) pronounced in December 2010, allocating the river water to Karnataka, erstwhile Andhra Pradesh and Maharashtra.
The KWDT had further modified its final order and report on November 29, 2013 to allot surplus water to Karnataka, Maharashtra and the erstwhile State of Andhra Pradesh while preserving the allocation of 2130 TMC already made amongst them.
The publication of the order of the Tribunal is a necessary pre-condition for its implementation. However, following the bifurcation of Andhra Pradesh, its successors Telangana and Andhra Pradesh had moved the Supreme Court challenging the KWDT's allocation of shares.
Karnataka has argued that its dam and irrigation projects worth thousands of crores to provide water to its parched northern areas have been stalled for all these years because of the 2011 order of the Supreme Court to not publish the KWDT decisions in the Official Gazette under Section 6(1) of the Inter-State Water Disputes Act of 1956.
Karnataka has argued that the dispute raised by Andhra Pradesh and Telangana was between them and did not concern it.
The dispute began with the erstwhile Hyderabad and Mysore states, and later continuing between successors Maharashtra, Karnataka and Andhra Pradesh.
In 1969, the Krishna Water Disputes Tribunal (KWDT) was set up under the Inter-State River Water Dispute Act, 1956, and presented its report in 1973.
The report, which was published in 1976, divided the 2060 TMC (thousand million cubic feet) of Krishna water at 75 per cent dependability into three parts:

560 TMC for Maharashtra.
700 TMC for Karnataka.
800 TMC for Andhra Pradesh.

As new grievances arose between the states, the second KWDT was instituted in 2004.
It delivered its report in 2010, which made allocations of the Krishna water at 65 per cent dependability and for surplus flows as follows:

81 TMC for Maharashtra, 177 TMC for Karnataka, and 190 TMC for Andhra Pradesh.
After the creation of Telangana as a separate state in 2014, Andhra Pradesh is asking to include Telangana as a separate party at the KWDT and that the allocation of Krishna waters be reworked among four states, instead of three.