Denotified, Nomadic And Semi-Nomadic Tribes Under SC/ST/OBC Lists: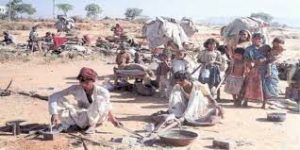 The Parliamentary panel on Social Justice and Empowerment has asked the government to expedite categorisation of Denotified, Nomadic and Semi-Nomadic Tribes under either the SC/ST/OBC lists. Delay would increase their suffering and deprive them of welfare schemes.
Denotified, Nomadic and Semi-Nomadic Tribes are communities that are the most vulnerable and deprived.
DNTs (Denotified) are communities that were 'notified' as being 'born criminals' during the British regime under a series of laws starting with the Criminal Tribes Act of 1871.
These Acts were repealed by the Independent Indian Government in l952, and these communities were "De-Notified".
A few of these communities which were listed as de-notified were also nomadic.
Nomadic and semi-nomadic communities are defined as those who move from one place to another rather than living in one place all the time.
Historically, Nomadic Tribes and De-notified Tribes never had access to private land or home ownership.
While most DNTs are spread across the Scheduled Castes (SC), Scheduled Tribes (ST) and Other Backward Classes (OBC) categories, some DNTs are not covered in any of the SC, ST or OBC categories.
Many commissions and committees constituted since Independence have referred to the problems of these communities.
It has been estimated that South Asia has the world's largest nomadic population.
In India, roughly 10% of the population is Denotified and Nomadic.
While the number of Denotified Tribes is about 150, the population of Nomadic Tribes consists of about 500 different communities.