Adi Shankaracharya : Statue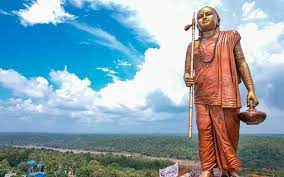 The Madhya Pradesh Chief Minister recently unveiled a 108-feet statue of Adi Shankaracharya, an 8th-century Vedic scholar and teacher, in Omkareshwar.
Adi Shankaracharya was an ancient Indian philosopher and theologian who lived in the early 8th century CE.
He was born in Kalady, a village in present-day Kerala.
He is best known for his role in the development and propagation of Advaita Vedanta, a non-dualistic school of Hindu philosophy.
He amalgamated the ideologies of 'Advaita Vedanta' and also explained the basic ideas of Upanishads.
His most important work is his efforts to synthesize the six sub-sects, known as 'Shanmata.' 'Shanmata', which literally translates to 'six religions,' is the worship of six supreme deities.
Shankaracharya explained the existence of one Supreme Being (Brahman) and that the six supreme deities are part of one divine power.
He established four prominent monastic centers in India, each associated with one of the cardinal directions: Sringeri in the south, Dwarka in the west, Puri in the east, and Badrinath in the north.
He wrote 18 commentaries on major religious scriptures like the Bhagavad Gita, Brahmasutras, and 12 major Upanishads.
His review of 'Brahma Sutra' is known as 'Brahmasutrabhasya', and it is the oldest surviving commentary on 'Brahma Sutra'.
He wrote 23 books on the principles contained in the Advaita Vedanta philosophy, including Viveka Chudamani, AtmaBodha, Vakya Vritti, Upadesa Sahasri, etc.
72 devotional hymns and meditational hymns like Soundarya Lahari, Nirvana Shatakam, Maneesha Panchakam.
Adi Shankaracharya is believed to have attained Samadhi (a state of deep meditation or realization) at the young age of 32 in Kedarnath in the Himalayas.