Kudumbashree And Project Unnati: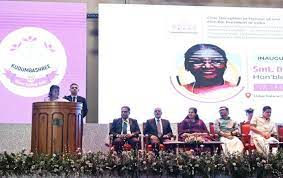 The President attended celebrations of Kudumbashree and Project Unnati-associated events in Kerala.
Kudumbashree, the Kerala State Poverty Eradication Mission was launched in May 1998.
It was inaugurated by the Prime Minister, Shri Atal Bihari Vajpayee.
Objective: to eradicate absolute poverty within a definite time frame of 10 years under the leadership of Local Self Governments formed and empowered by the 73rd and 74th Amendments of the Constitution of India.
Kudumbashree strives to develop the model of a microfinance-led financial security process into a more comprehensive model of local economic development under the aegis of local governments.
It was launched by the State Government with the active support of the Government of India and NABARD.
Kudumbashree is formally registered as the "State Poverty Eradication Mission" (SPEM).
State Poverty Eradication Mission (SPEM) is a society registered under the Travancore Kochi Literary, Scientific and Charitable Societies Act 1955.
Kudumbashree is a community organization of Neighborhood Groups (NHGs) of women in Kerala.
It has been recognized as an effective strategy for the empowerment of women in rural as well as urban areas by bringing women together from all spheres of life to fight for their rights or for empowerment.
It is implemented through Community Development Societies (CDSs) of Poor Women, serving as the community wing of Local Governments.
Project Unnati:-
It is under the Union Rural Development Ministry.
It is a skill-upgrading initiative established in 2020.
Objectives:-

enhancing the beneficiaries of the Mahatma Gandhi NREGA's skill base and enhancing their quality of life.
to offer training to one adult household member (between the ages of 18 and 45) who has worked 100 days under the Mahatma Gandhi NREGA in the fiscal year prior to the project's start.