World Giving Index 2021 Report: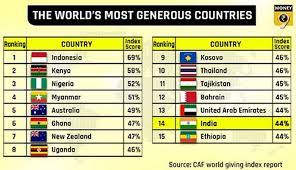 The Charities Aid Foundation (CAF) released the World Giving Index 2021 report. The Charities Aid Foundation (CAF) is a leading international charity registered in the United Kingdom. It was founded in 1974.
World Giving Index (WGI):
The World Giving Index (WGI) is an annual report published by the Charities Aid Foundation and ranks over 140 countries in the world according to how charitable they are.
The first edition was released in September 2010.
The WGI is a global survey, which asks people three questions: In the last month have you…

Helped a stranger, or someone you didn't know who needed help?
Donated money to a charity?
Volunteered your time to an organisation?

The index measures countries by the proportion of population giving rather than how much they give.
Rankings:
The most generous country in the world is Indonesia.
Australia and New Zealand the only high-income countries to remain in this year's Top 10.
India is 14th most charitable country.
Scores for India rapidly improved between 2017 and 2019, and this improvement was maintained during 2020.
The improvement in India is seen across all the age groups and amongst both men and women.
61 percent of Indians helped strangers; 34 percent volunteered; 36 per cent donated money.