Matua Dharma Maha Mela: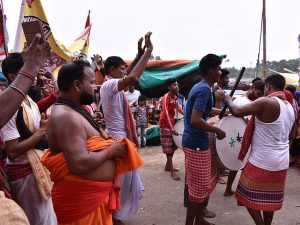 The Prime Minister has urged people to visit Matua Maha Mela in large numbers and paid tribute to Shri Shri Harichand Thakur Ji for showing the path of kindness and service.
The Mela is being organised to celebrate the 212th Birth Anniversary of Shri Shri Harichand Thakur ji.
It highlights the vibrant culture of the Matua community.
The Matua Community is a subset of lower-class AVARNA Hindus who belong to the Namasudra Scheduled Caste group and are also referred to as "Chandalas,".
Harishchandra Thakur:
He began a social and religious movement in 1860 in Orakandi, now in Bangladesh, and this movement eventually led to the creation of the Matua.
This sect opposed caste oppression and later drew members from other communities, including Malis and Telis, that was ostracised by the upper castes.
His devotees regard him as God and refer to him as Thakur, a Vishnu or Krishna avatar. As a result, he earned the name Sri Sri Harichand Thakur.
He passed away in Bangladesh's Faridpur district.
His dedication towards raising awareness, spreading education & improving the condition of women in society is a bright beacon of hope for us to remain on the path of righteousness.