Lakhpati Didi Scheme: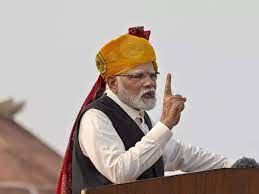 Independence Day address, the Prime Minister unveiled initiatives Lakpati Didi Scheme which aimed at empowering artisans and women's self-help groups (SHGs) across India.
Lakpati Didi Scheme:
The government's goal is to create two crore "lakhpati didis" (prosperous sisters) in villages.
This scheme aligns with the broader mission of poverty alleviation and economic empowerment.
Under this scheme, women will be provided skill training so that they can earn over Rs 1 lakh per year.
Features:

Drones will be provided to women SHGs for agricultural activities.
This initiative aims to leverage technology to transform the agricultural landscape while empowering women in rural communities.
Around 15,000 women's SHGs will be given training in operating and repairing drones.
This training will not only create new avenues for income generation but also equip women with cutting-edge skills.
Drones have the potential to revolutionize agriculture by enabling precision farming, crop monitoring, and pest control.
Under the scheme, women will be trained in skills like LED bulb making, plumbing, among others.
Self-Help Groups (SHGs) :
They are informal associations of people who choose to come together to find ways to improve their living conditions.
It can be defined as self governed group of people with similar socio-economic background and having a desire to collectively perform common purpose