Anduri Utsav : Uttarakhand's Whimsical Butter Festival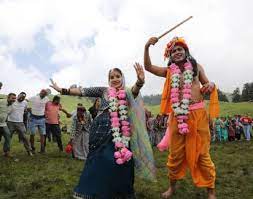 The Anduri Utsav, popularly known as the Butter Festival, celebrated at Dayara Bugyal of Uttarkashi district of Uttarakhand culminated recently.
Dayara Bugyal, situated at an altitude of 11,000 feet above sea level, is one of the pristine meadows in the state.
It is also known as Butter Holi, as people smear each other with butter, milk and buttermilk in a playful manner.
The festival is a way of expressing gratitude to Lord Krishna, who is believed to have protected the cattle from evil forces while they were grazing in the bugyal.