Digital India Week 2022: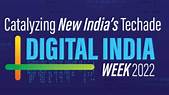 The Prime Minister has inaugurated the Digital India Week 2022 under the Digital India Programme, with the aim to strengthen Ease of Doing Business and Ease of Living.
Theme: 'Catalyzing New India's Techade'.
To transform the nation into a digitally empowered society and knowledge economy.
During the programme, PM launched multiple digital initiatives aimed at enhancing the accessibility of technology, streamlining service delivery to ensure ease of living and giving a boost to startups.
Digital Initiatives:
Digital India Bhashini:
Digital India BHASHINI is India's Artificial Intelligence (AI) led language translation platform.
A Bhashini Platform will make Artificial Intelligence (AI) and Natural Language Processing (NLP) resources available to MSME (Medium, Small and Micro Enterprises), Startups and Individual Innovators in the public domain.
Digital India GENESIS:
Digital India GENESIS' (Gen-next Support for Innovative Startups) is a national deep-tech startup platform to discover, support, grow and make successful startups in Tier-II and Tier-III cities of India.
My Scheme:
It is a service discovery platform facilitating access to Government Schemes.
It aims to offer a one-stop search and discovery portal where users can find schemes that they are eligible for.
Meri Pehchaan:
It is National Single Sign On (NSSO) for One Citizen Login.
It is a user authentication service in which a single set of credentials provide access to multiple online applications or services.
Chips to Startup (C2S) Programme:
The C2S Programme aims to train specialized manpower in the area of design of semiconductor chips at Bachelors, Masters and Research levels, and act as a catalyst for the growth of Startups involved in semiconductor design in the country.
It offers to mentor at the organisational level and makes available State-of-the-art facilities for design to the institutions.
Indiastack global:
It is a global repository of key projects implemented under India Stack like Aadhaar, UPI (Unified Payment Interface), Digilocker, Cowin Vaccination Platform, Government e MarketPlace, DIKSHA Platform and Ayushman Bharat Digital Health Mission.
It will help position India as the leader of building Digital Transformation projects at population scale.