Lightning Be Declared a Natural Disaster: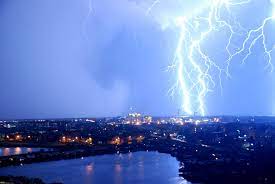 Recently few States have demanded that "lightning" be declared as a "natural disaster" because deaths caused by it surpass any other disaster in India.
Presently Cyclone, drought, earthquake, fire, flood, tsunami, hailstorm, landslide, avalanche, cloudburst, pest attack, frost, and cold waves are covered under the State Disaster Response Fund (SDRF) which is 75% funded by the Centre.
According to a newly published yearly report on lightning from the Lightning Resilient India Campaign (LRIC), India may have seen up to 18.5 million lightning strikes between April 2020 and March 2021.
Each year, lightning claims the lives of more than 2,500 Indians.
Madhya Pradesh had the highest number of lightning-related deaths (162), followed by Maharashtra (121), Gujarat (72), Bihar (70), Rajasthan (49), and Chhattisgarh (40).
India has experienced 90,632 deaths due to lightning strikes between 1972 and 2019.
The Accidental Deaths & Suicides in India 2021 report confirms that 40.4% of deaths due to natural disasters took place due to lightning.
77% of farmers are killed due to lightning as they work in agricultural fields during the Kharif cropping season in the monsoon period.
Lightening :
It is the natural process of "an electrical discharge of very little duration and high voltage between a cloud and the ground or within a cloud," accompanied by a bright flash, a loud sound, and occasionally thunderstorms.